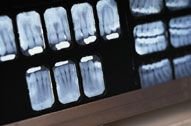 In some cases, especially with adults, orthognathic surgery may be needed to do such things as reconstructing jaws or jawbones. Such surgery is typically performed in tandem with orthodontic treatment such as braces.
Jaw surgery, usually performed by maxillofacial or oral surgeons, involves cutting and repositioning segments of the bone in order to restore proper balance and bite relationship. In many cases, restored jaws need to be secured with plates, wires or screws while they are heaing.
Recovery time depends on many factors, including the age and health of the patient, and the severity of the condition that led to surgery.
In rare cases, patients who have undergone jaw surgery may suffer a relapse of the condition, requiring additional treatment options. Complications from jaw surgery may include one or more of the following:
• Additional complications of the temporomandibular joint.
• Lip numbness.
• Swelling, bleeding or infections.