Orthodontic Services Available From Our Northvale, New York, and Ridgefield Orthodontist
KHL Orthodontics offers a full array of orthodontic services to help you obtain a beautiful smile and healthy teeth. You can read more on this page about specific services.
Ceramic Braces
Functional Appliances
Limited Laser Surgery (such as gingivectomy)
What Is Orthodontics?
The purpose of orthodontics is to correct any type of malocclusion or "bad bite".
What Is An Orthodontist?
An orthodontist is a specialist in treating the "malocclusion" using braces and other corrective procedures.
Why Is Treatment So Important?
Crooked and crowded teeth are hard to clean and maintain, which can lead to tooth decay, gum disease, and tooth loss.
Why Should All Kids Get An Orthodontic Check-up No Later Than Age 7?
Orthodontists can detect subtle problems with jaw growth and emerging teeth which are easier to correct if they are found early.
Does Age Matter?
Orthodontic treatment can be successful at almost any age. Healthy teeth, bones, and gums respond well to orthodontic treatment at almost any age.
How Long Does Treatment Take?
Treatment times vary with factors that include severity of the problem and how well the patient follows the instructions, etc.
How Much Does It Cost?
This initial consultation is free of charge. At the time of consultation, the fees involved will be discussed and the most appropriate financing plan will be offered to patients.
What is Invisalign?
Invisalign is the invisible way to straighten teeth without braces, using a series of clear removable aligners.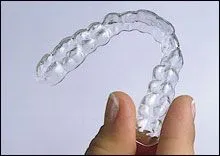 For Invisalign
Second set of impressions are taken at this point to be sent to lab for fabrication of aligners.
Active treatment time usually lasts 1-2 years depending on the type of case. Office visits during active treatment is made in 4-6 weeks intervals.
Active treatment is followed by retention follow-up of 2 years with office visit interval of 3-6 months.